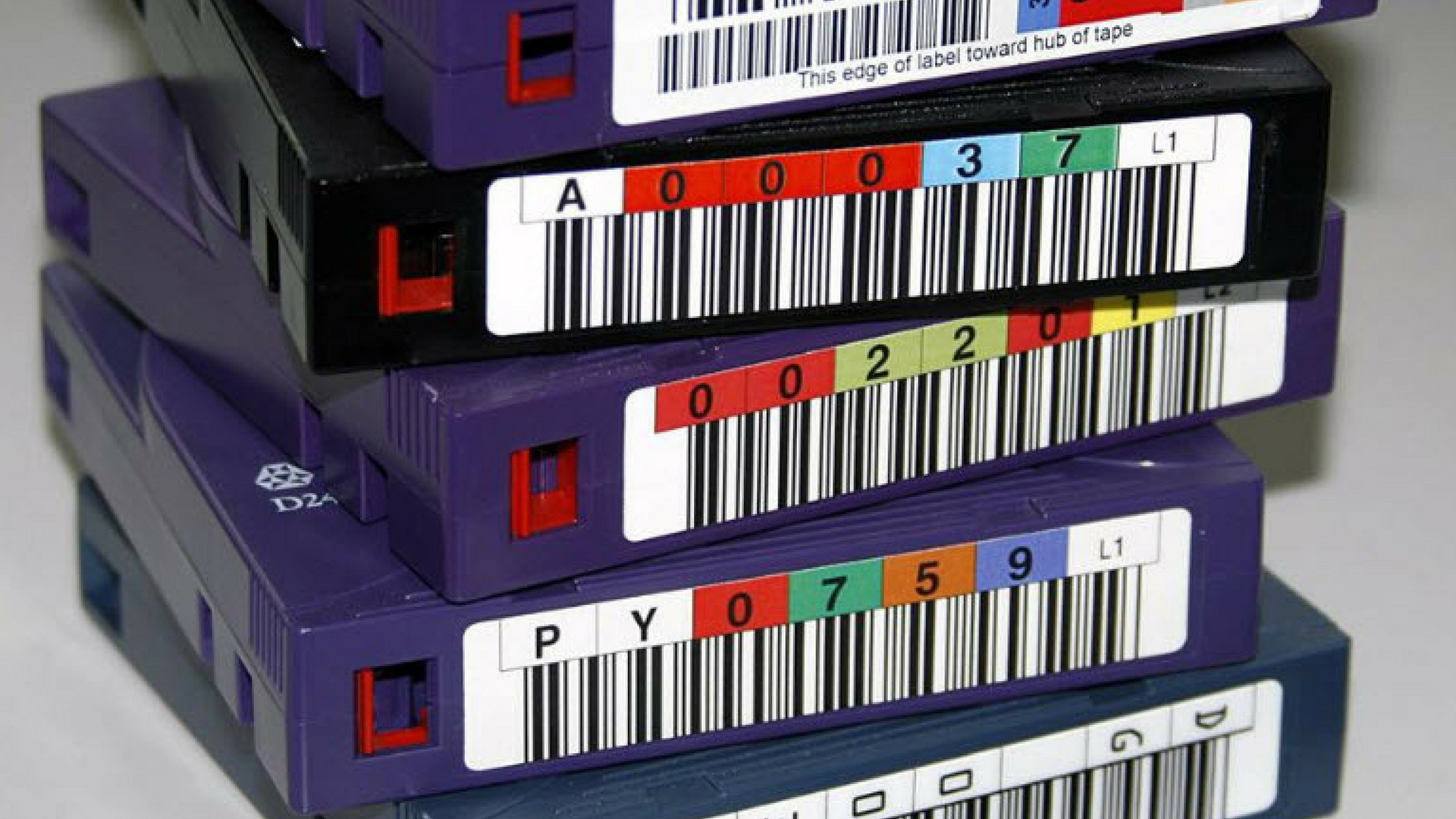 LTO Tape – Long Term Data Protection
LTO TAPE
Long Term Data Protection
Our digital universe is expanding. In 2012, IBM calculated that about 2.5 Exabytes, (2.5 billion gigabytes), of data were generated daily . Fast forward only 8 years to 2020 and experts are predicting that our digital universe will expand to 44 Zettabytes; about 44 Trillion Gigabytes.
Businesses are challenged with data storage and backup
As data rapidly increases, businesses are challenged with managing their data storage and backup.
Within a business, data is being created and consumed at a high rate. With the challenges of data storage regulations and the philosophy of "store everything"; IT departments and data centers are looking for new solutions.
As IT budgets flatten. LTO and tape libraries are becoming a cost effective backup solution.
What are LTO Tapes?
Introduced in 2000, Linear Tape Open,(LTO), Ultrium is a high-capacity, single-reel tape storage solution developed by Hewlett Packard Enterprise, IBM and Quantum. It's a powerful, scalable and adaptable tape format that helps address the growing demands of data protection.
Currently in its 7th generation, LTO technology supports a tape cartridge storage compressed capacity of up to 15TB, more than twice that compressed capacity over the previous generation.
As businesses look for an affordable, secure and reliable data storage solutions, LTO tape data storage is becoming a viable alternative solution. LTO tapes are durable and can be used for long-term data retention.

Benefits of LTO Tapes
• Latest generation of LTO technology provides up to 15 Terabytes of compressed storage per cassette.
• Tapes use minimal energy and equipment
• 256-bit AES encryption
• LTO technology is an "open" format
• Tapes are robust and can be easily & inexpensively transported
Industries that benefit from LTO Tape Storage
• Healthcare
• Education
• Government Agencies on the Local, State & Federal Levels
• Professional Sports Teams
• Media
• Film Makers
• Movie Studios
• Video Surveillance
Seery Systems' Tape Vault
LTO cartridges need to be stored where the temperature and humidity are controlled. LTO cartridges also need to be protected from electromagnetic pulses. Our FIRELOCK® Fire Proof Vault provides regulated temperature control and is shielded for EMP's.
If you use LTO Tape solutions for long term data protection, Seery Systems can help.
Seery Systems' Vault is a Class 125 FIRELOCK® media vault to assure maximum protection of your off-site tape storage.
Our media vault is the only Fire Proof vault on Long Island.
The tape vault is a Four Hour Rated Vault Chamber and has a Double Vault Door as well as a FM-200 Clean Agent Fire Suppression System keeping your tapes safe from a fire up to four hours.
Conclusion
More and more businesses are adopting LTO Tape as a cost effective and secure solution for their term data protection.
As the data universe continues to expand, businesses will need more data protection solutions that can scale with their business. The affordable LTO Tapes seems to be a viable solution.
Seery Systems
Go Paperless
Document Scanning
Media Vault
Cloud Hosting
Off-site Records Storage
Software Solutions
Hardware Solutions
References & Resources:
1. https://www-01.ibm.com/software/data/bigdata/what-is-big-data.html
2. Lto.org
3. https://en.wikipedia.org/wiki/Linear_Tape-Open
4. lto.Org, tapestorage.org, Enterprise Strategy Group, Wikipedia, Insic.org, LTFS Partners
5. Chart Credit: lto.org